Fronius IG 15 / 20 / 30 on grid inverter 1300 watt max 1500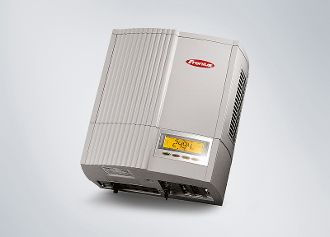 Fronius IG 15 / 20 / 30 on grid inverter 1300 watt max 1500
Fronius IG 15 / 20 / 30 on grid inverter 1300 watt max 1500
The reliable PV inverter series.
The Fronius IG series has proven itself to be powerful, user-friendly and highly reliable. Equipped for every size of PV system, especially for smaller systems (e.g. on the roof of one-family houses). The combination of different types available for selection is limitless. The ingenious processor control combined with the powerful HF transformer extracts the maximum energy yield from all types of modules.
Technology
---
HF transformer switchover



Fronius transformer inverters use a high-frequency (HF) transformer. The automatic transformer switchover facility produces three efficiency peaks. The result: a constant level of efficiency across the entire input voltage range, resulting in higher yields. Other advantages of HF transformer technology are the compact, lightweight design, a high level of efficiency and safety as a result of the electrical isolation.
Fronius Module Manager



The Fronius Module Manager always locates the maximum power point (MPP), even in the case of the more demanding thin-layer modules. The Fronius Module Manager achieves an outstanding MPP adaptation efficiency of >99.9 % in total.
PC board replacement



The foundation of the unique PC board replacement is laid as we develop our inverters, as PC boards can only be replaced if the device has been designed accordingly. This enables our Fronius Service Partners to provide the fastest inverter servicing on the marke
Technical Data
---
Fronius IG

15

20

30

Input Data

MPP voltage range

150 - 400 V

150 - 400 V

150 - 400 V

Max. input voltage(at 1000 W/m²; - 10° C)

500 V

500 V

500 V

PV system output

1,300 - 2,000 Wp

1,800 - 2,700 Wp

2,500 - 3,600 Wp

Max. input current

10,8 A

14,3 A

19 A

Output Data

Nominal output

1,300 W

1,800 W

2,500 W

Max. power output

1,500 W

2,000 W

2,650 W

Max. efficiency

94,2 %

94,3 %

94,3 %

Euro efficiency

91,4 %

92,3 %

92,7 %

Mains voltage / frequency

230 V / 50 Hz (60 Hz)

Distortion factor

< 3,5 %

Power factor

1

Power consumption at night

0 W

General Data

Size l x w x h

366 x 344 x 220 mm (500 x 435 x 225 mm)

Weight

9 kg (12 kg)

Cooling

controlled forced-air cooling

Protection class (housing)

IP 21 (IP 45)

Ambient temperature range

- 20 ... 50° C

Permissible humidity

0 ... 95 %

Protective Devices

DC insulation measurement

warning when Riso< 500 k Ohm

Polarity reversal protection

built-in

Behaviour on DC overload

displacement of operating
Reviews