Inverter LHC2000 / charger pure sine wave
Inverter LHC2000 / charger pure sine wave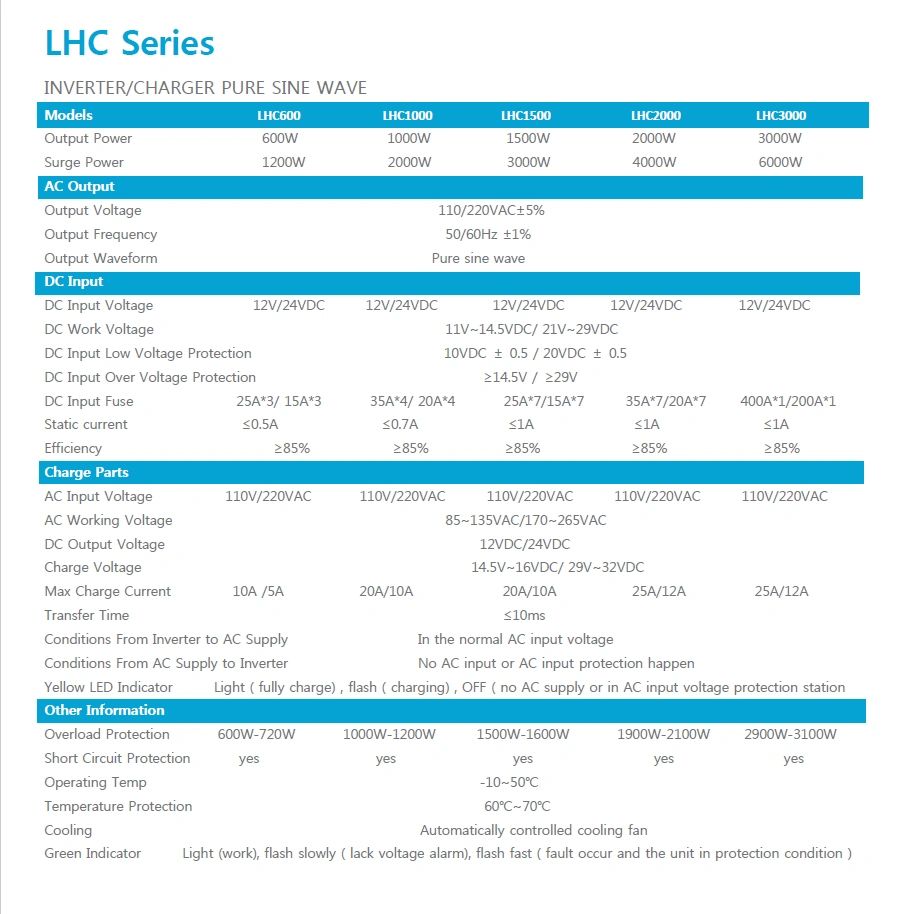 power inverter convert DC 12V or DC 24V of the storage batteries into AC 110V
or AC 220V, and also charge the storage batteries by converting the AC to DC when there
is AC power supply. Briefly to say, when AC unavailabe, it convert DC to AC, when AC
available, it supply AC output directly and charge the storage batteries.
It is well suitable to supply power for notebook, digital camera, video camera and other
used in the districts with unstable power or supplied power by the solar or wind energy
sources. Besides, it supplies a stable power for household appliance as TV, computer, DVD,
VCD, satellite receiver, printer, fluorescent lamp, cooler, stereo, fan, electric drill, press drill,
lighting, motor, game player ect.
Product Features
● fully automatic ups switching function
● soft start function. Even if with heavy load, it will not harm this product and the appliances,
which largely enhance its loading capacity
● Less time needed to charge with a more efficient charging rate. The charging process
concludes 4 steps: pre-charge, main charge, float charge, charge fully
● The intelligent positive and negative pulse charge not only could protect and repair
the storage battery but charge more quickly and fully, it can extend the life of the battery
● AC output voltage display function, very obviously and conveniently
● Small size, light weight, no noise and no pollution with a pleasurable outlook
● Have sound and lack voltage alarm indication, charge indicator, charge fully indicator
and temperature control and making cold fan control
Protection
● Input AC over voltage and low voltage protection
● Battery DC over voltage and low voltage protection
● Short circuit protection
● Over temperature protection
● Over load protection
Reviews