SMA Inverter Grid tie 1100sw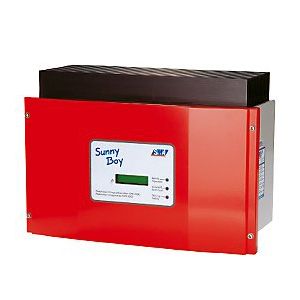 SMA Inverter Grid tie 1100sw
SMA Inverter Grid tie 1100sw

SMA Sunny Boy 1100Watt Grid Connect Inverter
The Sunny Boy SB 1100 is one of the most sophisticated and high quality inverters on the market. Featuring German engineering the inverter will help to achieve the optimum match between the solar generators output power and the inverters input power.
The compact SB 1100 inverter has proven particularly successful with more than 30,000 units sold worldwide. Packed full of innovative technologies, this Sunny Boy also features the international SMA grid guard interface. This ensures maximum reliability when operating the solar power system and enables electricity to be fed into mains grids anywhere in the world.
The Sunny Boy SB 1100 is the perfect grid connect inverter for a 1KW solar installation. It is easy to install which will help to reduce your installation costs and it is one of the most efficient on the market. Join the solar revolution today with the Sunny Boy SB 1100. The Inverter features an LCD display which by simply tapping turns on to show you, your solar systems output.
Use the SB 1100 for small starter systems, educational, or demonstration projects. Field configurable for three output power ranges, this small inverter will allow a PV installation with as few as three solar modules. It's great to fill tight spaces, or as a solution for challenging roof topologies.
Just like every other Sunny Boy Inverter the SB 1100 can be configured for all of the communications options available. Which means you can combine them with any other SMA inverter and access the data in one central location. As an added advantage, the SB 1100 has a new control board that allows for any remote communications option to be used simultaneously with the Sunny Boy Display!
The inverter features an easy plant design for reduced installation costs, this inverter is the solution for your solar panel grid connect system.
Features
· Easy plant design and reduced installation costs
· SMA grid guard® (MSD)
· Diagnosis and communication via Power line Communication, radio transmission or via data cable (RS232 or RS485)
· Extended temperature range -25 °C to +60 °C
· For outdoor and indoor installation
· Connection on the AC- and DC-side with connectors
· Surge voltage protection with integrated thermally monitored varistors
Warranty
· 5 Year Comprehensive Warranty Standard
· Extended 10 Year Warranty Optional ($600 Extra)
Technical Specifications
Input Characteristics

Recc maximum PV power

1350 Wp

Maximum DC power

1210 W

Maximum DC voltage

400 V

PV-voltage range, MPPT

139V - 400V

Maximum input current

10 A

DC voltage ripple

< 10 %

Max number of strings parallel

2

DC disconnection

Snap cable connections

Thermally monitored varistors

Yes

Ground fault monitoring

Yes

Reverse polarity protection

Short circuit diode

Output Characteristics

Max AC power

1100 W

Nominal AC power

1000 W

THD of grid current

< 4%

Default range of AC voltage

198 V - 260 V

Possible range of AC voltage

180 V - 265 V

AC frequency

49.5 Hz - 50.2 Hz

Possible range of AC frequency

45.5 Hz - 54.5 Hz

Phase shift

1

Short circuit proof

Yes, current control

Connection to utility

AC plug

Maximum Efficiency

93%

Mechanical Characteristics

Dimensions

320W x 320H x 180D mm

Weight

21 kg
Sunny Boy Benefits
· Ensure your solar installation is at its most efficient with a high quality SMA inverter.
· Features a display so you can monitor how your solar array is performing.
· Simple installation to reduce installation costs.
· Help reduce the amount of greenhouse gases emitted.
Quality and Safety
· Emission standard: DIN EN 61000-6-3:2002-08
· Utility interference: DIN EN 61000-3-3:2002-12, DIN EN 61000-6-2:2002-08
· Safety: DIN EN 50178:1998-04
· Semi conductor-converter: DIN EN 60146-1-1:1994-03
Reviews